Partial and full dentures are custom-made replacements for missing teeth, and they are a lot more common than you'd probably guess! According to the U.S Census and Simmons National Consumer Survey (NHCS), just shy of one million Americans used dentures in 2017. Did you know that many famous people have used dentures? Here are five famous people who needed to use dentures at one point.
1. George Washington (1732—1799)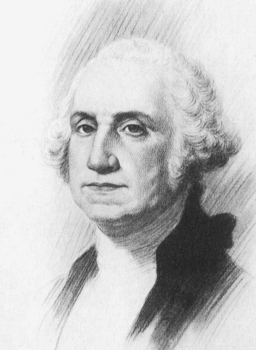 George Washington, a devoted family-man, farmer, and military commander, and the revered first president of the United States of America, had a lifetime of teeth troubles. Because of this, he wore a full set of dentures by the age of 57. Many people speculate he had false teeth made of wood. In fact, he had multiple sets of dentures made of a combination of human teeth, ivory, various metal alloys (such as lead-tin, copper, and silver), and possibly even cow and horse teeth!
2. Winston Churchill (1874—1965)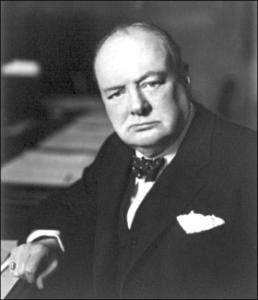 Winston Churchill, a powerful orator and the British Prime Minister from 1940 to 1945 during World War II, and again from 1951 to 1955, also wore dentures. He even had his dentist modify his dentures to preserve his signature lisp so that his voice would remain instantly recognizable over the wartime radio broadcasts. Moreover, when his dentist was drafted to join the Army, Churchill ripped up the orders because he felt that his dentist could better serve the Allies by staying to maintain his dentures. Churchill's dentures are affectionately known to have "helped win World War II" and sold for nearly $24,000 in 2010.
3. Clark Gable (1901—1960)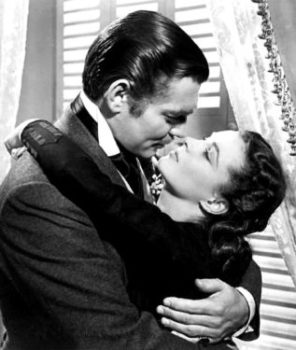 Gone with the Wind actor William Clark Gable was dubbed "The King of Hollywood" during the era of classic Hollywood cinema. But even "The King" needed dentures… and suffered from chronic bad breath! Gable had to have all of his teeth removed in his early 30s because of severe periodontitis.
4. Florence Henderson (1934—2016)
The beloved Florence Henderson, America's favorite TV mom Carol Brady from the Brady Bunch, is commonly thought to have worn dentures because she was a spokeswoman and brand ambassador for Polident denture cleaner. However, she actually had beautiful natural teeth. She advised: "Flossing, brushing, and regular dental checkups are vitally important if you want to keep your natural teeth."
5. Emma Watson (1990—)
Emma Watson played Hermione Granger in the magical Harry Potter series. She lost some pretty noticeable baby teeth (also known as milk, temporary, primary, and deciduous teeth) during filming so she wore partial dentures to cover the gaps until her adult teeth (also called permanent teeth) filled in!
We Can Restore Your Smile to Full Function!
Missing teeth affects not only your appearance, but also your oral health. By replacing missing teeth, chewing is made easier and other teeth won't move into the spaces left by missing teeth. If you are missing a tooth or two, or even all your teeth, we offer several tooth-replacement services at Arlington Dental Center that will help you eat, speak, and smile with confidence once again. Ask our team about our partial and full dentures, dental bridges, and start-to-finish dental implants. Contact us today to schedule your restorative dentistry consultation.
Schedule My Appointment
Top 8 what celebrities have dentures Synthesized by BSS news
Celebrities with Dentures and Veneers – Your Favorite Stars Who Chose Cosmetic Dentistry
: brooklynblvddental.com
: 11/24/2022
: 4.69 (335 vote)
: Celebrities With Dentures and Veneers · Hillary Duff · Kylie Jenner · Emma Watson · Clark Gable · Miley Cyrus · Tom Cruise · Ben Affleck · George Clooney.
: Veneers are slim ceramic shells that bond to the front of the teeth. Veneers can completely transform your smile and are becoming quite popular for their simplicity and versatility. They can be a solution to stained and discolored teeth, teeth that …
Celebrities with Dentures & Veneers
: parksidedentist.com
: 01/11/2023
: 4.49 (414 vote)
: Celebrities with Dentures & Veneers · Emma Watson · Joe Biden · Clark Gable · Ben Affleck · Nicole (Snooki) Polizzi · Jon Bon Jovi · Do You Want a …
: Veneers are slim ceramic shells that bond to the front of the teeth. Veneers can completely transform your smile and are becoming quite popular for their simplicity and versatility. They can be a solution to stained and discolored teeth, teeth that …
Celebrities with Dentures
: feltfamilydentistry.com
: 05/19/2023
: 4.3 (516 vote)
: Did you know there are some celebrities who wear dentures at some point in their careers? Among them are Ben Affleck & Clark Gable. Read on.
: Veneers are slim ceramic shells that bond to the front of the teeth. Veneers can completely transform your smile and are becoming quite popular for their simplicity and versatility. They can be a solution to stained and discolored teeth, teeth that …
Famous People That Wear Dentures: The Fake Smiles of Tinseltown
: xodent.co
: 08/16/2022
: 4.19 (365 vote)
: Steve-O (Nearly). Steve-O is one of many celebs with dentures…according to the internet. But in reality, he doesn't, and he …
: It's crazy. If you're wondering why celebs are so reluctant to admit to having veneers or wearing dentures, you have your answer. It seems that you can't say anything these days without someone picking it up, exaggerating it, and then making grand …
33 Celebrities With False Teeth In 2023
: cardsdental.com
: 10/06/2022
: 3.86 (412 vote)
: 33 Celebrities With False Teeth In 2023 · Tom Cruise · Hilary Duff · George Clooney · Victoria Beckham · Courtney Love · Chris Rock · Winston Churchill …
: William Gary Busey, better known as Gary Busey, is an American film and television actor. Gary Busey teeth were not cosmetic. He got false teeth as a corrective dentistry. Gary Busey's teeth were damaged due to motorcycle accident in 1998. So, he …
Ten Celebrities You Never Knew Wore Dentures
: bajicdentures.ca
: 10/03/2022
: 3.65 (252 vote)
: Ten Celebrities You Never Knew Wore Dentures · Coming in at #1 is Emma Watson · Our #2 Denture Wearer is none other than Ben Affleck · The #3 …
: We all know that your smile can go a long way to creating not only a positive self image, but an accurate outward portrayal of your inner beauty as well. There is no exception to this rule in Hollywood, in fact, having a perfect set of teeth is …
12 Celebrities Who Have Had Dentures
: ranker.com
: 01/10/2023
: 3.52 (227 vote)
: Who is the most famous person who wears dentures? Ben Affleck tops the list. Before getting expensive caps, Affleck was rumored to wear a full set of dentures …
: We all know that your smile can go a long way to creating not only a positive self image, but an accurate outward portrayal of your inner beauty as well. There is no exception to this rule in Hollywood, in fact, having a perfect set of teeth is …
20 celebrities with fake teeth
: oceanreefdental.com.au
: 01/17/2023
: 3.23 (491 vote)
: 20 celebrities with fake teeth · 1. Miley Cyrus · 2. Tom Cruise · 3. Hilary Duff · 4. George Clooney · 5. Victoria Beckham · 6. Morgan Freeman · 7.
: Another former Disney child star, Hilary Duff's decision to modify her smile came after she allegedly chipped her tooth on a microphone while performing in 2005. This tooth may have been covered up by a veneer, and veneers may also have been placed …