As you look around the history of Major League Baseball and baseball in general, many tall baseball players have played the game, some of them being some of the best players of their generation and of all time.
One former MLB player landing as one of the Tallest MLB Players All-Time is Randy Johnson. Meanwhile, a 2022 MLB Draft Pick, Jared Beck, has the chance to be the tallest pitcher at seven feet tall.
As Beck starts his minor league career with the Orioles, many tall players are playing baseball in the Major Leagues today. One of those players is the potential AL MVP and New York Yankees All-Star Aaron Judge.
Here is a look at the Tallest MLB Players currently and of all time.
Current Tallest MLB Players
1. Sean Hjelle – San Francisco Giants (6'11")
The San Francisco Giants relief pitcher Sean Hjelle comes in as the tallest MLB player. Hjelle, who lists at six foot eleven inches, is not only the tallest player in baseball in 2022 but ties as one of the tallest players ever to play baseball.
Hjelle, 25 years old, has appeared in six games for the Giants this season while making his MLB debut. In those six outings, Hjelle has worked 16 innings of work while striking out 18 batters.
2. Tyler Glasnow – Tampa Bay Rays (6'8″)
As the second tallest player in MLB baseball in 2022, tied with Chris Martin, the Tampa Bay Rays starter Tyler Glasnow slots in at six foot eight inches tall.
Glasnow, who battled some injuries limiting him to just 14 starts in 2022, has posted a solid 5-2 record for the Rays to go along with a 2.66 earned run average over those starts.
His best performance in the Majors came during the 2019 MLB schedule when the Rays starter finished with a 6-1 record to go along with a 1.78 earned run average, .89 WHIP, and 76 strikeouts.
3. Chris Martin – Los Angeles Dodgers (6'8″)
The only other active MLB player to list at six foot eight inches is the Los Angeles Dodgers relief pitcher Chris Martin. Martin, a journeyman in baseball, has spent time with six different teams in his MLB career.
He won both a World Series Championship in 2021 with the Atlanta Braves and Japan Series Championship in 2016 when he played for the Hokkaido Nippon-Ham Fighters.
4. Aaron Judge – New York Yankees (6'7″)
The potential AL MVP who recently hit his 60th home run of the 2022 MLB season also makes the tallest MLB players list.
Judge, who lists at six foot seven inches, continues to put together big MLB seasons since entering the Majors during the 2016 MLB season.
Entering the 2022 MLB season, Judge had posted a career-high 52 home runs and 114 runs batted in during his first full season in the Majors in 2017.
Since then, Judge has added two seasons with 27 home runs and another with 39 home runs.
His performance has earned him four selections to the AL All-Star team, the 2017 AL Rookie of the Year award, two Silver Slugger awards, and one Wilson Defensive Player of the Year award.
5. Oneil Cruz – Pittsburgh Pirates (6'7″)
One of the bright young faces of Major League Baseball is the Pittsburgh Pirates rookie Oneil Cruz who is just 23 years old. Cruz, batting .220 in the year, has hit 17 home runs and driven in 51 runs through the team's game on September 20, 2022.
The Pirates infielder also joins the rankings as one of the tallest MLB shortstops of all time.
Entering the final few weeks of the MLB schedule, Cruz is playing his way into the NL Rookie of the Year conversation as one of the top rookies in Major League Baseball.
6. Adam Wainwright – St. Louis Cardinals (6'7″)
The aging veteran continues to pitch at a high level despite being one of the only Major League Baseball players over 40 years old.
Wainwright, who recently broke the record along with his long-time catcher Yadier Molina for most games played together as a pitcher/catcher, picked up his 12 MLB season with double-digit wins during the 2022 MLB schedule.
Wainwright is a three-time NL All-Star and World Series Champion who has won two Gold Glove awards, one silver slugger award, led the NL in wins twice, and won the Roberto Clemente award.
7. Michael Pineda – Detroit Tigers (6'7″)
The former Seattle Mariners' highly touted prospect Michael Pineda joins Adam Wainwright. Pineda, who also spent time with the New York Yankees and Minnesota Twins, is currently with the Detroit Tigers.
Pineda is six foot seven inches and one of many pitchers in the game that stands at that height. Pineda's best season came back during the 2014 MLB season in just 13 starts as he finished with a 5-5 record while posting a 1.89 earned run average.
In addition, Pineda posted double-digit wins twice in his career while making the AL All-Star team as a rookie in 2011.
8. Connor Sadzeck – Milwaukee Brewers (6'7″)
The former 30-year-old relief pitcher of the Milwaukee Brewers, Connor Sadzeck, lists at six foot seven inches.
Sadzeck, who appeared in just two games for the Brewers during the 2022 MLB season, has struggled but recently signed a minor league deal with the Washington Nationals in August.
9. Miguel Castro – New York Yankees (6'7″)
As Miguel Castro rehabs from a shoulder injury, the New York Yankees relief pitcher ranks as one of the tallest pitchers in all baseball.
Castro has pitched for the Toronto Blue Jays, Colorado Rockies, Baltimore Orioles, and New York Mets before joining the Yankees this season and has posted a solid career working out of the bullpen.
Castro currently holds a career earned run average of 4.12 over his career, going along with 16 wins and seven saves.
10. Lucas Giolito – Chicago White Sox (6'6″)
The former first-round pick of the Washington Nationals during the 2012 MLB draft is just 28 years old and a vital component of the Chicago White Sox rotation.
Giolito, who joined the White Sox in 2017 after being traded by the Nationals in the winter of 2016, pitched his only no-hitter back on August 25, 2020.
In addition, the White Sox starter made his only All-Star team during the 2019 MLB season.
During that year, Giolito posted career highs in wins with 14, strikeouts with 228, and just a 3.41 earned run average.
Tallest MLB Player of All-Time
As the players above all rank as the tallest MLB players during the 2022 MLB schedule, Sean Hjelle also lands on the list of the tallest MLB player of all time, joining Jon Rauch.
Rauch was also listed at six foot eleven during his pitching career within seven different organizations.
The tallest positional MLB player All-Time is Nate Freiman and Tony Clark, who both listed at 6'8″ while playing first base.
Top 7 tallest player in baseball Synthesized by BSS news
Who is the tallest baseball player ever? And right now?
: screwballtimes.com
: 07/21/2022
: 4.64 (519 vote)
: The tallest MLB baseball player of all time is pitcher Jon Rauch at 6 foot, 11 inches (6'11"). Pitchers are usually the tallest. The tallest …
Is Aaron Judge the tallest MLB player in 2022?
: sportskeeda.com
: 01/20/2023
: 4.48 (554 vote)
: At an astounding 6-foot-11-inches, Sean Hjelle is officially the tallest MLB player of 2022. He joins Jon Rauch as the only two MLB players in …
All The Tallest Current Baseball Players, Ranked
: ranker.com
: 08/22/2022
: 4.25 (575 vote)
: Over 2K fans have voted on the 30+ items on All The Tallest Current Baseball Players, Ranked. Current Top 3: Aaron Judge, Tyler Glasnow, Adam Wainwright …
Here are the tallest MLB players of all time
: nbcsportswashington.com
: 07/19/2022
: 4.14 (407 vote)
: T-1. Jon Rauch (P): 6-foot-11 … Rauch is probably the first player to come to mind. The former pitcher is tied for the tallest player in MLB …
: Hendrickson is a unique one. He was first drafted by an MLB team in 1992 but opted to attend college instead. After graduating and playing both basketball and baseball at Washington State, he was drafted by the Philadelphia 76ers in 1996 and the …
This is MLB's All-Tall Team
: mlb.com
: 03/07/2023
: 3.96 (441 vote)
: With 11 starts in his career, 6-11 righty Jon Rauch technically is the tallest player to start an MLB game. But with Rauch in our RP spot, the …
: Hendrickson is a unique one. He was first drafted by an MLB team in 1992 but opted to attend college instead. After graduating and playing both basketball and baseball at Washington State, he was drafted by the Philadelphia 76ers in 1996 and the …
The 7 Tallest Baseball Players of all time
: 73buzz.com
: 05/21/2023
: 3.7 (452 vote)
: Randy Johnson is a former pro baseball pitcher who played for 22 seasons in Major League Baseball (MLB) from 1988 to 2009. Johnson is considered …
: When it comes to sports, being tall has its advantages. But it doesn't generally mean that a player needs to be taller than average to be an athlete. For baseball, a player comes in all shapes and sizes but do you also know that this story has some …
MLB Player Heights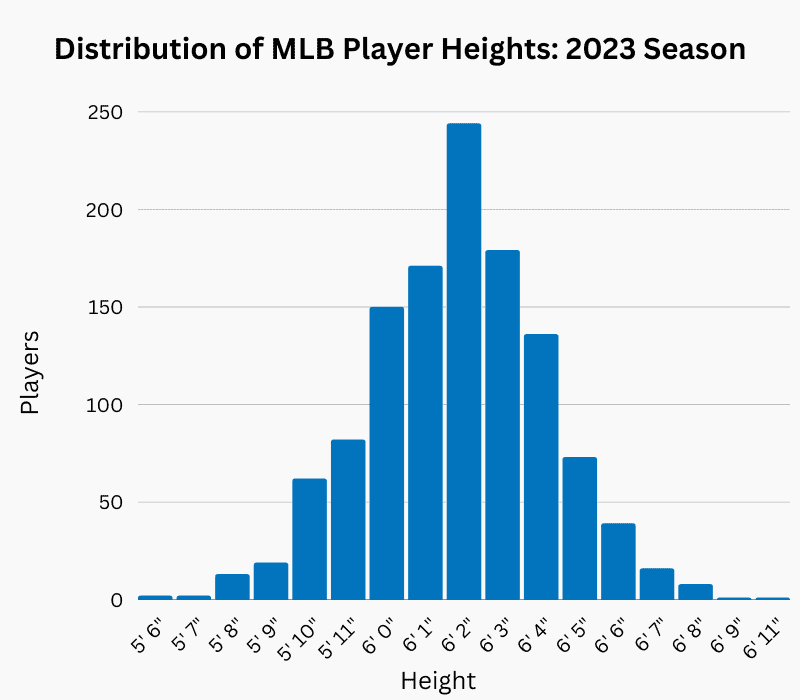 : baseballbible.net
: 09/26/2022
: 3.43 (285 vote)
: The tallest player in MLB for the 2023 season is Sean Hjelle, standing at 6′ 11″.
: When it comes to sports, being tall has its advantages. But it doesn't generally mean that a player needs to be taller than average to be an athlete. For baseball, a player comes in all shapes and sizes but do you also know that this story has some …