School buildings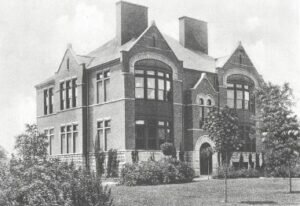 Maine Township High School District 207's rich history dates back to April of 1901, when residents voted to establish a local high school and issue $15,000 in bonds to construct a building. In October of that same year, the first Board of Education was established and presided over by Dr. C.A. Earle.
Students and teachers moved into the new building on Thacker/Dempster Street in Des Plaines in November of 1902. The school produced its first graduating class of 3 students in the spring of 1904. By 1908, the school met the accreditation requirements of the North Central Association of Secondary Schools and Colleges. By 1915, enrollment had grown to 181 and a $55,000 addition provided an auditorium, swimming tank, and locker rooms.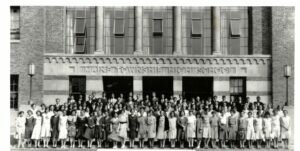 By the mid-1920s, a growing student population prompted plans for a new building. Land was purchased at Dempster and Potter Road in Park Ridge, a site chosen for its central location and accessibility for residents of both Des Plaines and Park Ridge. Residents approved the construction of a $650,000 school. However, the stock market crash of 1929 threatened the planned opening of the new school until Principal Charles Himel convinced the Board of Education and community that the new school should be opened on time (March 1930) because the youth of the township deserved the benefit of education in the contemporary building that was nearing completion. Open on time it did, a state-of-the-art facility known until 1959 as Maine Township High School.

In 1957, facing a projected enrollment of 9,000 by 1965, voters approved the purchase of two additional high school sites. The Board of Education bought farmland at Oakton and Wolf in Des Plaines and additional land at Dee Road and Talcott in Park Ridge.
Maine West High School opened at the Des Plaines site on Sept. 8, 1959, to 2,300 students and 131 teachers. The original building consisted of three academic wings around a central core. Each wing was designed as a separate school for up to 1,000 students with science labs and a gym in each wing. The goal of this arrangement was that students would become part of a smaller team. However, this school within a school concept lasted just one year.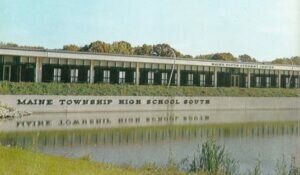 Five years later, on Sept. 8, 1964, Maine South opened at the Park Ridge site and became home to 2,570 students. The design of the building provided for a three-level A wing for classrooms with other spaces like athletics, cafeteria, and fine arts on the opposite end of the school. The school had coaxial cable throughout the building, state of the art at the time.
Maine North opened in November 1970 and the school was home to 1,200 students from Glenview, Des Plaines, and Niles. However, the demographic projections that prompted the construction of Maine North did not come to fruition. An enrollment once projected to reach 3,500 students peaked, instead, at 1,800 in 1976-77.
The Board reluctantly chose to close Maine North after the 1980-81 school year. The school colors were black, gold, and white, and the teams were known as the Norsemen. The school had about 3,200 graduates.
In 1984, Maine North served as the setting for Director John Hughes' iconic coming-of-age movie "The Breakfast Club." An early script for the movie was discovered in 2015 when District 207 offices were being moved.
A History of Innovation Maine Township High Schools have always been on the cutting edge of education. It was true when Maine was probably the only school in Illinois offering telegraphy and automotive repair in 1915. It remains the case today, as District 207 might be the only district in the nation where every teacher is following a coaching plan to improve student learning.
All along the way, there have been many landmarks. A first yearbook in 1913. The High School Cadet Corp. was formed in 1918 to provide basic military training for Maine students. A chapter of the National Honor Society in 1922.
During the 1920s, bands, orchestras, and choirs were formed. Today's students routinely earn state honors and, on occasion, even national recognition.
In 1952, Modern Music Masters, a national honorary society, was organized at Maine Township High School. WMTH-FM took its place among the first high school radio stations in the U.S. when it was licensed and went on the air in 1959.
In 2008, District 207 became Google's first elementary and secondary school district Google Apps for Education partner. This led to District 207's introduction of a 1-to-1 computer program in which each student and staff member has their own Chromebook. Based on the use of these tools in innovative ways along with other critical innovations, such as instructional coaching for all staff members, in 2016, Google included Maine 207 as one of 10 high-performing districts around the world.
A History of Service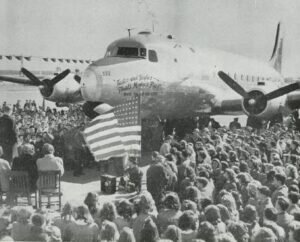 Students in District 207 have a long history of service to the community through clubs, fundraisers, and many other endeavors.
In December 1944 students at Maine Township High School (now Maine East High School) combined forces with their teachers, school administrators, and community members to sell war bonds. The drive succeeded in raising $551,000. As a result of their efforts, the students were invited to a dedication ceremony at the local Douglas Aircraft plant, where C54 Skymaster cargo planes were built for the war. The students named one of the planes the "Maine Flyer" and came up with the motto, "Faster and Higher, That's Maine's Flyer." The nickname/mascot "Flyers" for Frost Academy was selected to honor the contributions made
In April 2020 at the start of the global pandemic, Superintendent Dr. Ken Wallace spearheaded an effort that raised more than $115,000 that was donated to families in need of food, household goods, and other necessities. The funds were donated by faculty, staff, administrators, parents, community members, and student groups.
Top 3 maine north high school Synthesized by BSS news
Maine North High School
: atlasobscura.com
: 01/27/2023
: 4.96 (848 vote)
: Open for just 11 years, Maine North High School shuttered permanently in 1981 due to low attendance. However, a few years later, …
Donald Stillwaugh: Maine North High School – #SOSBRUTALISM
: sosbrutalism.org
: 11/22/2022
: 4.47 (483 vote)
: Donald Stillwaugh: Maine North High School, ?–1970 … Closed after only 11 years in 1981 und subsequently used for public offices until today. In the mid 1980s …
: In 2008, District 207 became Google's first elementary and secondary school district Google Apps for Education partner. This led to District 207's introduction of a 1-to-1 computer program in which each student and staff member has their own …
Maine Township North HS Norsemen (Des Plaines)
: leopardfan.tripod.com
: 10/30/2022
: 4.33 (223 vote)
: Sadly it was decided to close the Maine North High School building in favor of keeping the other three buildings open. The school was closed in 1981 after only …
: In 2008, District 207 became Google's first elementary and secondary school district Google Apps for Education partner. This led to District 207's introduction of a 1-to-1 computer program in which each student and staff member has their own …