As far as notable age gaps in Hollywood couples go, there are many famous ones. However, Star Wars actor Carrie Fisher didn't confirm her affair with her older co-star, Harrison Ford, until decades after it ended. How much younger was Leia's portrayer than the man behind Han Solo?
Harrison Ford and Carrie Fisher are famous for the 'Star Wars' franchise
Ford and Fisher both gain notoriety for their roles in the Star Wars franchise. Before landing the role of Han Solo, Ford has appeared in a handful of films and TV series, including American Graffiti, which introduced him to George Lucas. Going into filming, he was the most successful of the three leads.
Fisher, meanwhile, had just one acting credit under the belt when cast as Princess Leia Organa. However, she came from a Hollywood family. The daughter of singer Eddie Fisher and actor Debbie Reynolds, Fisher left school after winning the role in the movie that would later be titled Star Wars: Episode IV – A New Hope.
They slept together in 1976 while filming the first movie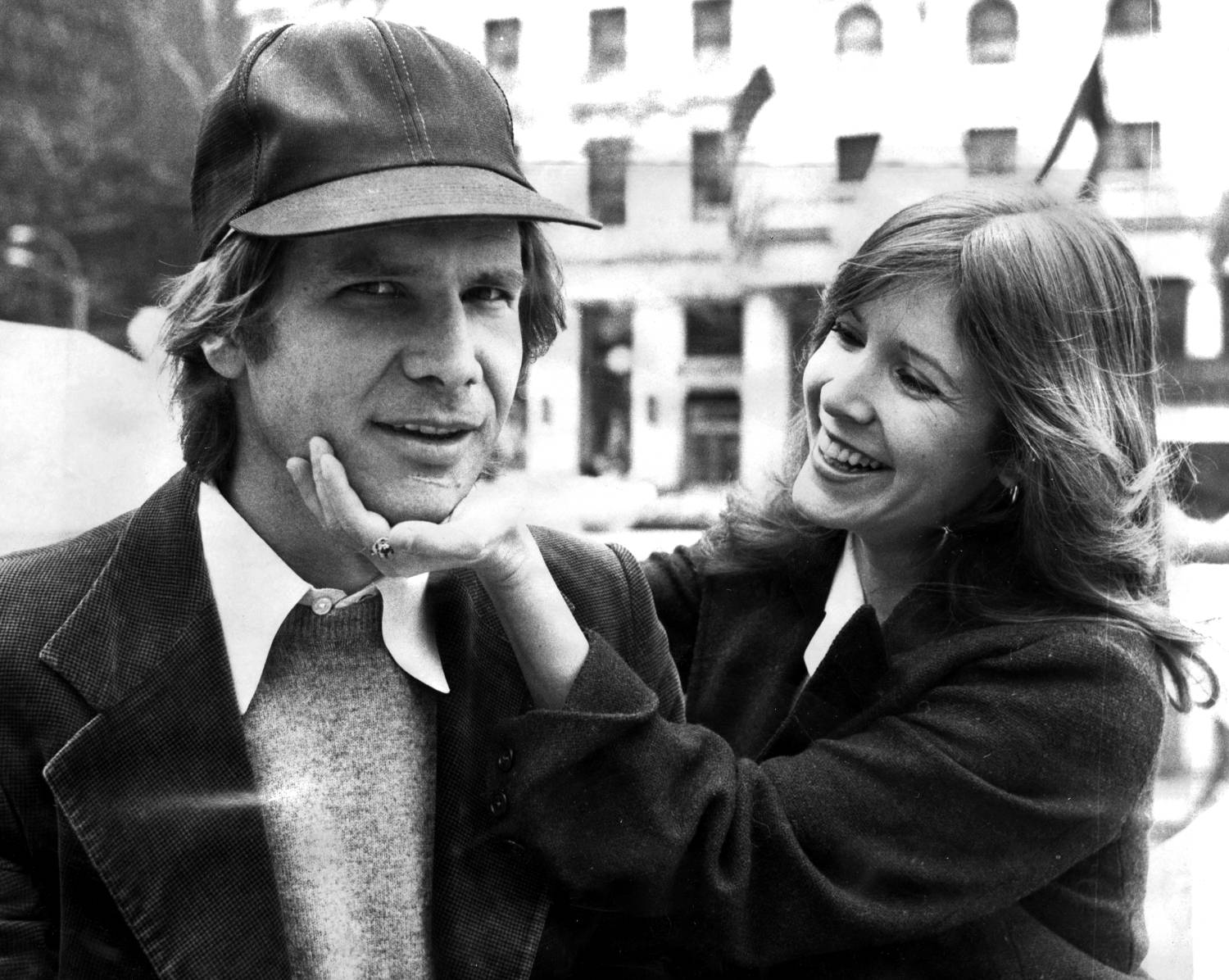 Han Solo and Princess Leia's flirtation in A New Hope spawned a full-fledged romance that marked the original trilogy. However, the relationship occurring behind-the-scenes is nearly as interesting to fans as the one seen on screen. In real life, Ford and Fisher engaged in an affair during filming, while Ford was married to his first wife, Mary Marquardt.
"I don't think of Harrison in any way as a 'womanizer,'" Fisher wrote in her 2016 memoir The Princess Diarist. "I think he was lonely in England. We were all lonely." She added, "None of us had ever started in a movie before, and Harrison was the only one of an age where he could muster some perspective."
Though the affair ended with filming for the first film, Fisher and Ford remained friendly throughout the rest of her life. They worked together on sequels The Empire Strikes Back, Return of the Jedi, and, decades later, The Force Awakens. Ford and Marquardt divorced in 1979.
Fisher didn't anticipate the affair because of the age difference
Before things got romantic, Fisher never expected to sleep with the married actor. "One of the things I knew when Harrison and I met was that nothing of a romantic nature would happen," she wrote. "It wasn't even an issue. There were plenty of guys out there who were single whom I could date without needing to dip into the married guy pool."
Fisher was hung up on their significant age difference. "He was also far too old for me—almost fifteen years older!" she wrote. "I would be twenty in a matter of months, but Harrison was in his mid-thirties—old! Well into adulthood, anyway." At another point, she noted, "He was a man. I was a girl—a male human like him would have to be with a woman."
Star Wars: A New Hope filmed primarily in London in the first half of 1976. Fisher was 19 years old. Ford was 34 and turned 25 in July 1976. "We were on the Island of Location, and Location is the land of permission, where you can behave in ways that you would never behave in the real world," Fisher wrote.