Cody Rhodes made his triumphant return to WWE at last year's WrestleMania. After spending time in the indies and making a name for himself in some of the biggest wrestling promotions in the world, Rhodes decided it was time to return home.
In the six years Cody Rhodes was gone from WWE, he completely reinvented himself. Rhodes wanted to distance himself as much as he could from his previous characters in WWE. The American Nightmare was then born, and Rhodes never looked back. Not only did he give himself one of the coolest nicknames in wrestling, but he changed his entire character. He debuted new blonde hair and a theme song that fans enjoy and sing along to whenever it comes on. On top of all that, Cody Rhodes got a brand new tattoo on his neck that is hard to miss.
When Rhodes debuted his new neck tattoo, fans were shocked. Not only is it a massive tattoo that covers nearly the entire side of his neck, but it sticks out because of its color. It's almost impossible not to notice the tattoo if you look at Cody Rhodes, unless your name is Vince McMahon.
While interviewing with Ariel Helwani, Cody Rhodes admitted that Vince McMahon offered to make him some new logos for his WWE return. Rhodes simply leaned in and showed McMahon his notorious tattoo without saying a word.
"[Did Vince say anything about the neck tattoo?] No, there's a fun moment where I had such a great conversation with him. If I had not decided to come back, I still walked out of that meeting with him feeling really good. I brought him the old WWWF Title to show him because I have it, you know, Dan Lambert gave it to me and for free shockingly. But he just made a comment. He goes, 'You know, we have the best artists and creative services department in the world. We could come up with some new logos for you.' And I remember I just leaned in and kind of went like that [showing his tattoo] and showed him, and he did one of those classic laughs, 'Ha, nevermind. That's it. That's it."
It would be pretty weird if WWE decided to make a few new logos for Cody Rhodes, considering he already has a gigantic logo permanently tattooed on his neck. Along with keeping his logo, Rhodes clarified to Vince McMahon that he wanted to keep everything, including his theme song, entrance, and whatever else he used to get him to where he is today. According to Rhodes, it wasn't hard to negotiate this with Mr. McMahon.
"So, that's, you know, he knew we really can't change it at this point. This is what it is. And he said something really great that day. I was really, you know, I stood my ground. I said, 'I don't wanna change a thing about myself, including my song. I wanna have my elevator. I want all this.' And he said something, he goes, 'well, that's what we're buying. It's not broke.' And I thought, 'that feels good.' because I hadn't figured it out when I was here the first time. Everything was broke. And that was a nice feeling," he said.
Amazingly, Cody Rhodes was able to return to WWE while keeping the same gimmick, entrance, and theme music he used in other wrestling promotions. As Vince McMahon said, it's not broke.
Cody Rhodes made a name for himself in the indies by becoming everything he wasn't in WWE. WWE set him up for failure during his first run with the company. They kept feeding him terrible gimmicks that Rhodes miraculously managed to make entertaining. Cody Rhodes is a second-generation superstar who deserved more than wearing makeup and calling himself Stardust. He is the son of Dusty and the brother of Dustin Rhodes.
Leaving WWE was the best thing Cody Rhodes ever did for his career. During his time away, he showed WWE how great he could be. He was never going to get the same opportunities he got when he left the company in 2016. Now Rhodes is back to finish his story.
Cody Rhodes is set to face off against Roman Reigns at WrestleMania for the Undisputed WWE Universal Championship. Rhodes' mission since he returned last year has been to win the championship that his father never won. Cody Rhodes is back writing his own story, and that's pretty damn cool if you ask me.
Top 5 cody rhodes neck tattoo Synthesized by BSS news
Cody Rhodes Tattoos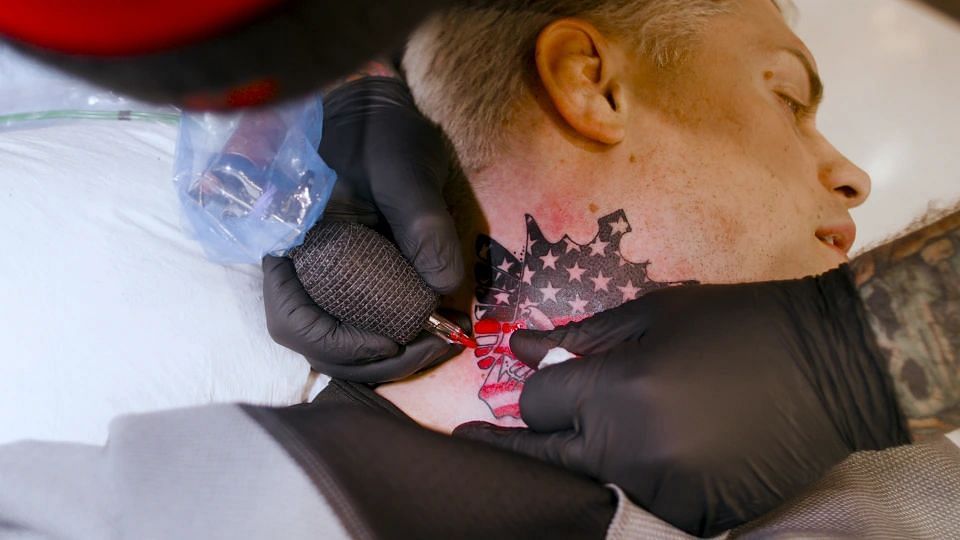 : sportskeeda.com
: 03/25/2023
: 4.66 (375 vote)
: In 2020, Cody Rhodes had his third tattoo on his neck, when working for the All Elite Wrestling. The tattoo features a skull with a crown …
: In the six years Cody Rhodes was gone from WWE, he completely reinvented himself. Rhodes wanted to distance himself as much as he could from his previous characters in WWE. The American Nightmare was then born, and Rhodes never looked back. Not only …
Cody Rhodes Reveals What Went Wrong With His Neck Tattoo
: wwfoldschool.com
: 05/15/2023
: 4.49 (285 vote)
: Cody also noted that he wanted the tattoo on his neck because that wouldn't be easy to hide and his brand would be always be visible. His wife, …
: In the six years Cody Rhodes was gone from WWE, he completely reinvented himself. Rhodes wanted to distance himself as much as he could from his previous characters in WWE. The American Nightmare was then born, and Rhodes never looked back. Not only …
The Wrestling World Roasts AEW's Cody For Polarizing Neck Tattoo
: forbes.com
: 06/27/2023
: 4.25 (372 vote)
: AEW Executive Vice President Cody revealed a new neck tattoo during AEW Revolution and reviews have been negative.
: In the six years Cody Rhodes was gone from WWE, he completely reinvented himself. Rhodes wanted to distance himself as much as he could from his previous characters in WWE. The American Nightmare was then born, and Rhodes never looked back. Not only …
Cody Rhodes Reveals The Hilarious True Story Behind His Divisive Neck Tattoo
: itrwrestling.com
: 01/27/2023
: 4.19 (344 vote)
: It is a nickname that he literally wears proudly as a tattoo on the right side of his neck. At 2020's Revolution pay-per-view, Rhodes challenged …
: In the six years Cody Rhodes was gone from WWE, he completely reinvented himself. Rhodes wanted to distance himself as much as he could from his previous characters in WWE. The American Nightmare was then born, and Rhodes never looked back. Not only …
Cody Rhodes Thought American Nightmare Neck Tattoo Was Going To Be Smaller
: fightful.com
: 02/15/2023
: 3.86 (466 vote)
: Upon his entrance, Cody unveiled his now famous Nightmare Family neck tattoo, that was the talk of the wrestling world throughout his battle with MJF.
: In the six years Cody Rhodes was gone from WWE, he completely reinvented himself. Rhodes wanted to distance himself as much as he could from his previous characters in WWE. The American Nightmare was then born, and Rhodes never looked back. Not only …