Almost nothing is more prevalent these days than the use of social media. It is rare to find a person without at least one account, be it Discord, Snapchat, Facebook, Tik Tok, or Instagram. We share our lives, our stories, what we're doing at any given moment. If you ever want to know what someone is up to, check their socials, you'll almost always find an answer. In the case of Bianca Devins, finding out what she was up to was not something anyone could have expected.
Reader discretion: This story is in no way meant to disrespect the memory of Bianca Devins. Images shared are intended to give a complete picture of the atrocity committed, without intent to glorify this horrific attack. If you have difficulty with graphic violence and images, we recommend reading this story, about Kenneka Jenkins.
At 6:40am, July 14, 2019, 21-year-old Brandon Andrew Clark posted a photo to his Instagram account (@yesjuliet – the account has since been removed by Instagram). The photo was a of a girl in a car, her neck was cut, and she was covered in blood. The look on her face told you it wasn't a joke; this was very real. Moments later, the same account posted to their story, a video driving down a dark road. It was captioned, "Here comes Hell. It's redemption, right?" Looking at the user's bio, it simply read: "10/06/1007 – 7/14/19. Just know that I feel no pain now."
The image was shared on Discord and 4chan, this time with the caption, "Sorry fuckers, you're gonna have to find somebody else to orbit"
More images appeared, one captioned, "I'm sorry Bianca."
Clark continued to post on Discord,"My fucking carI fuck Bianca dumbassAnywaysRemember to subscribe to PewdiepieAlso to the faggot fuck Alex with the Chinese usernameI hope it was worth itShe was gonna go home today"
"Her full names Bianca Michelle Devins of Utica NY btw"
"Should be a few articles within daysHave fun"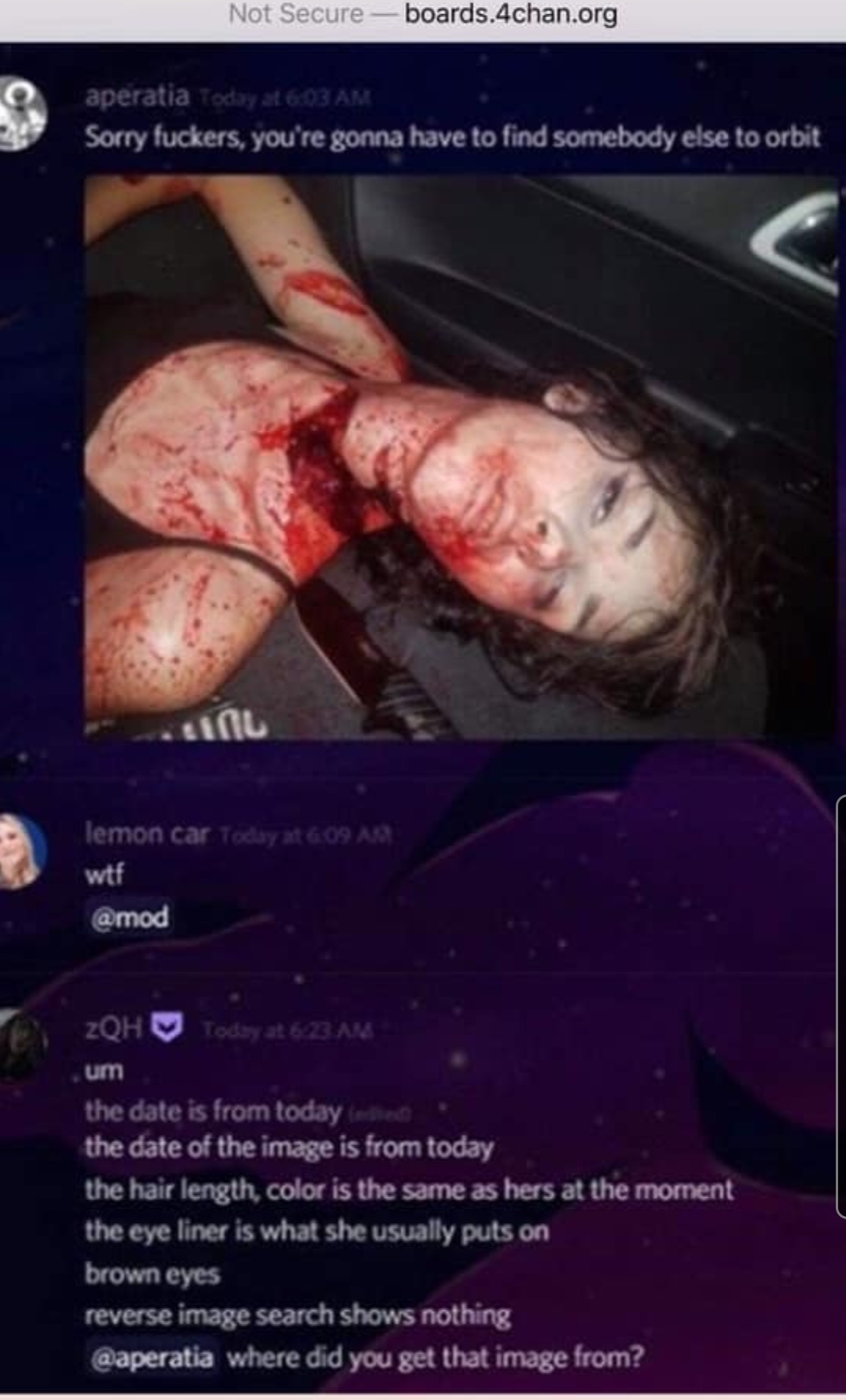 Some people didn't think it was real, after all, who shares something like that on social media? Others took it very seriously and contacted authorities. Police immediately began their search. They didn't have to look for long, as a short time later, a 911 call was received by Clark himself.
"My name is Brandon, the victim is Bianca Michelle Devins, I'm not going to stay on the phone for long, because I still need to do the suicide part of the murder-suicide."
Police were able to determine that the caller was on Poe St in Utica, NY, and upon their arrival, they found a black SUV and a man lying on a tarp that was on the ground beside it. Brown hair could be seen sticking out from beneath it. Once officers approached, the man, Clark, began stabbing himself in the neck with a knife, while live streaming and still posting photos online.
Authorities requested emergency medical care, and the Utica Fire Department arrived soon after.
Who was Bianca, and why did Clark kill her?
Bianca Michelle Devins was born on October 2, 2001. She had just graduated from High School and was set to attend Mohawk Valley Community College in the fall to begin her study of psychology. Bianca had struggled with mental illness for a while, having been diagnosed with depression, anxiety, borderline personality disorder, and post-traumatic stress disorder. Social media became her refuge, where she could escape the isolation she felt, and developed a following as an E-girl.
It was on social media where she first met Clark. The two met on Instagram in April 2019, when he followed her account. They later met in person when he attended her high school graduation. He was charming and polite, according to Bianca's mother, Kim.
It was clear that Clark had romantic feelings toward Bianca, but she did not reciprocate. She wanted their relationship to remain platonic.
On the evening of July 13, the night before Bianca was killed, she and Clark attended the concert of Canadian singer, Nicole Dollanganger in New York City. It was there that she was set to meet another friend, Alex. Even though Clark was aware of the meeting, he wasn't thrilled when he glimpsed Bianca and Alex kiss.
On the way home after the show, Clark confronted Bianca about the kiss. Again, she had to remind him that they were just friends. It was a long drive home, and Bianca fell asleep in the back seat. Taking this as his opportunity, Clark parked and setup a camera on the dash of his SUV. He woke Bianca up, holding a large knife at his side. Authorities who later watched the video report that it showed Clark "Saw Bianca's throat."
The police investigation uncovered evidence of a planned attack, including online searches for methods of killing someone. Searches included "how to find the carotid artery," "how to incapacitate or kill someone," and general searches for choking and hanging.
Bianca's murder has sparked outrage, not only against her killer, but also the social media giants who allowed her images to be shared and kept up for days. Despite Instagram blacklisting the hashtag #yesjuliet, and adding the images to a "digital fingerprint database," copies of the image continued to be shared, and in some cases, users who reported the images were told that they "did not violate community standards."
According to Kim, the images could still be found on Facebook as late as September. According to Hany Farid, a professor at the University of California, Berkeley, whose research focuses on digital forensics and image analysis, Instagram and other companies had the tools to stop the spread of the images online, and that their failure to do so bordered criminal.
Hopeful social media influencers took advantage of Bianca's murder. Their actions varied from changing their profile picture to be one of hers, to promising her "death" pics for follows. Illegitimate fundraising sites popped up, seeking donations, only to take the money and run.
In the aftermath, the media used Bianca's case to push the narrative of the dangers of meeting people online. Kim has criticized this idea. Meeting Clark online wasn't the issue. It wasn't Bianca's social media influence that drove him to kill, it was much deeper than that. While in jail, he wrote a letter to a friend, in which he "bragged" about his actions and explained, "he couldn't handle the thought of her walking out of his life."
On July 29, 2019, Clark pleaded not guilty to second-degree murder. While in prison, he received another charge, promoting prison contraband, after corrections officers found a toothbrush in his cell that he had sharpened into a shiv.
On February 10, 2020, Clark changed his plea to guilty. Four days later, the video he had recorded of him killing Bianca, was announced to the public. The existence of the video damaged his claims of blacking out and forgetting the details of her death.
Sentencing was scheduled to take place on April 7 but was delayed due to the COVID-19 pandemic. During this time, he made the decision to withdraw his guilty plea, claiming his attorney had failed him. His request was denied, due to his admission of guilt.
On March 16, 2021, Brandon Andrew Clark was sentenced to 25 years to life in prison.
Since then, Kim and attorney, Anthony Brindisi called for increased monitoring of social media. In response, Instagram allowed users to block private messages from strangers. The social media giant promised to share the results of an audit, however as far as we are aware, results have yet to be shared. Brindisi has requested the Federal Trade Commission to investigate the case for full accountability.
On September 21, 2020, The Devins family along with Brindisi, introduced "Bianca's Law." This legislation would require all social media platforms with more than $10 million in revenue and over 100,000 monthly users, to establish an office dedicated to identifying and removing violent content that violates the platforms moderation standards.
Educator and member of the New York State Assembly Marianne Buttenschon, and New York State Senator Joseph Griffo (R), introduced a law that would create criminal and civil penalties for spreading an image of a crime victim with the intent of glorification or harassment.
The Bianca Michelle Devins Memorial Scholarship Fund was created to support students pursuing a degree in psychology. Kim Devins released a statement congratulating Tiana Guzman of Utica, the first recipient of the award. "Bianca's goal was to become a psychologist to help adolescents with mental health issues. From her own experience, Bianca knew how important this work is. Bianca was a talented artist who used art to work through her own mental health issues. Our family created this scholarship with The Community Foundation so that Bianca's dream would be carried on through others. We wish Tiana the greatest of success in pursuing her career ad ask that she keep Bianca's spirit with her as she accomplishes their shared goals."
Keep up with the latest in entertainment and deals. Sign up for Amazon Prime today!
Note to readers: If you purchase anything through one of our affiliate links, we may earn a commission.